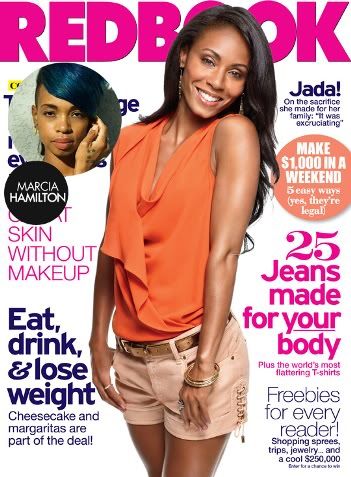 Celebrity hairstylist Marcia Hamilton created Jada's sizzling summer look for the August cover of Redbook Magazine. Here is how Marcia styled Mrs. Smith with ease:
1. To begin, blow out hair out using a large boar bristle round brush. Make sure to prep hair before drying. I used a moisture rich leave in conditioner and a couple drops of an oil.
2. Next, set hair with a large barrel curling iron working from the bottom to the top. Take large sections, no bigger than the size of your iron. Twist hair, then wrap it around the iron, close and hold for a few seconds. Pin each curl. When you're finished, spray with White Sands Infinity Hairspray and let sit for 10 minutes.
3. Remove all the pins from the set and put IT&LY Hairfashion Pure Water Drops in your hands to smooth fly away hairs while finishing. Run your fingers through waves to produce this gorgeous cover ready look
For decades, women seeking longer nails had three options: grow them out the natural way, subject their nails to harsh grinding and chemicals with acrylics and, more recently, gel nails that take hours to apply every couple of weeks. Now, a new option has emerged that will dramatically change the artificial nail industry: custom-fit nails that are unique to each owner's nail beds – just like a fingerprint – and made of an indestructible, high impact thermo-plastic that is guaranteed to never chip, break or crack. These nails are produced exclusively by Custom Nail Solutions!
Custom Nail Solutions are a healthier alternative to other types of artificial/fake nails. Each nail is applied with a non-toxic adhesive and is easily removed, repositioned and repainted – either at home or in your favorite nail salon. No need for heavy filing, grinding or harsh chemicals.
A full set of the custom-made nails can be ordered online for just $179. Using Custom Nail Solutions' at-home, mail-in impression kit and easy-to-follow instructions, the customer takes impressions of each of her nail beds, which are then scanned and custom-cut to match her nail's natural size and shape.